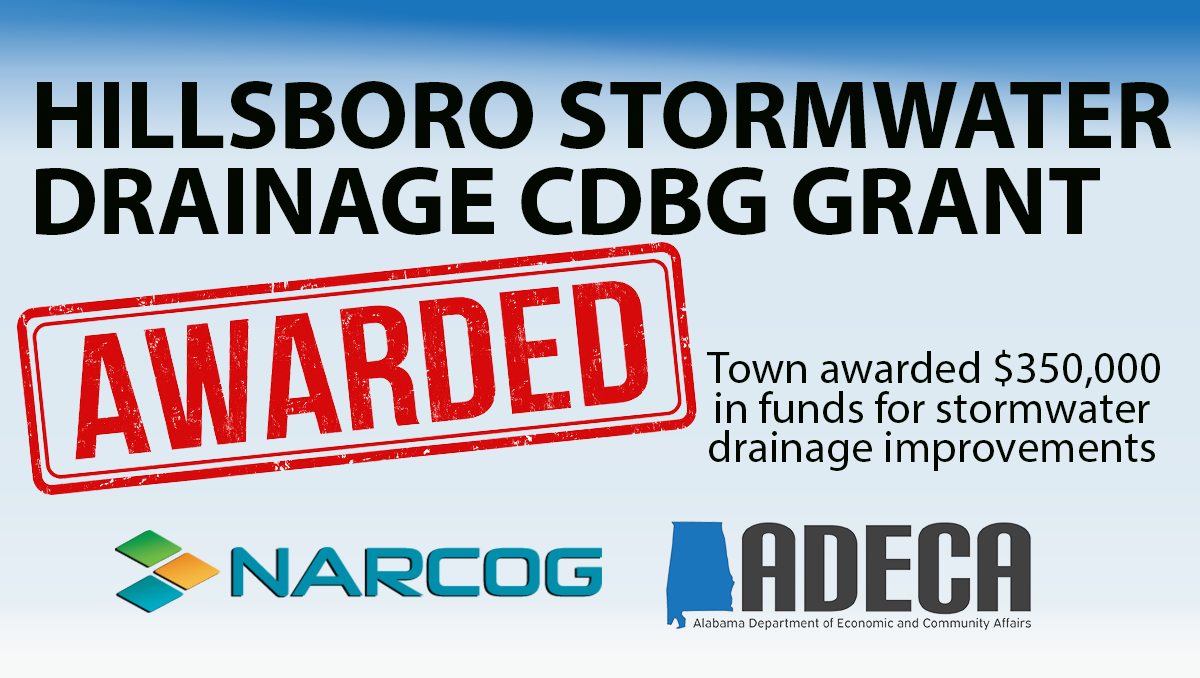 HILLSBORO — The Alabama Department of Economic and Community Affairs (ADECA) has awarded a Community Development Block Grant (CDBG) to the Town of Hillsboro to assist the municipality with improvements its stormwater drainage system.
The CDBG grant, which was prepared and submitted by the North Central Alabama Regional Council of Governments (NARCOG) Regional Planning Agency, awards Hillsboro $350,000 for a drainage project.
The project will be fully funded by this CDBG grant.
"We're extremely grateful for the grant funds to assist our town with this project," Hillsboro Mayor Charles Owens said. "This drainage project is needed, and it will have a positive impact on the residents in our community."
The project will impact 92 people and 47 households, with 68 beneficiaries who are low or moderate income (LMI) residents.
The project will provide drainage improvements in an area located south of the Norfolk Southern Railroad along Oakdale Avenue and its spur roads, including Owens Road, Beatrice Boulevard, Marlow Roads and East Peach Street.
Through this project, the Town of Hillsboro will enlarge the drainage ditches along Oakdale Avenue, Owens Road, Beatrice Boulevard, Horton Road, Church Street, Mallard Creek Road, East Peach Street and Marlow Road; install piping along Oakdale Avenue east of Marlow Road; replace or install culverts on Owens Road and Church Street, and driveway culverts throughout the project area; and install a box culvert on Oakdale Avenue west of Marlow Street.