ACTIVITIES AND RECREATION
There are 22 centers for seniors located in our three counties. Each one offers a variety of activities and recreation for participants. There are also numerous field trips and special events planned throughout the year. The Masters Games of Alabama is another way those aged 50 and older can stay active and enjoy a little friendly competition too. We are looking forward to games resuming. We will be cheering for our District 2 winners!
Mr. Earnest Lee (left) and Mr. John Motes (right) won first and second place in the 2018 District 2 Checker competition.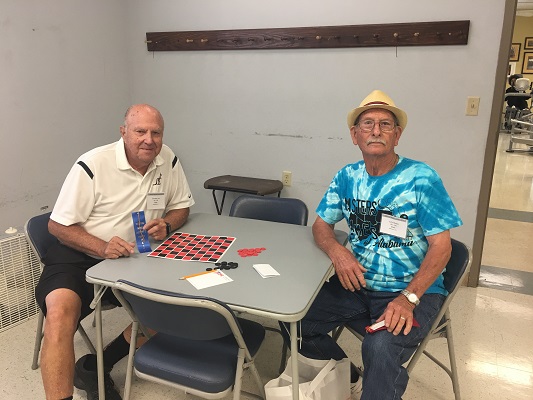 Wellness Programs 
NARCOG offers a variety of evidence based wellness programs including the following:
Exercise Program
This program was developed by the Arthritis Foundation, but you do not have to have arthritis to participate!  Classes are offered at locations across the region.  NARCOG offers this program at no cost through partnerships.  Some of the participants are shown demonstrating the low-impact exercises at one of our Older Americans Month events held in May.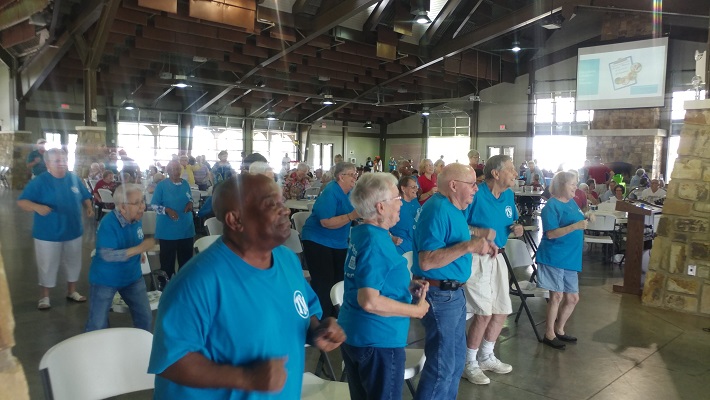 A Matter of Balance
Falls are a leading cause of injury and death for older adults.  The majority of falls occur at home during routine activities.
A Matter of Balance - Managing Concerns about Falls is another evidence based program that helps older adults reduce the fear of falling as it increases physical abilities to help reduce the risk of falls. NARCOG has two Master Trainers and volunteer coaches offering this program across our region.
Virtual and In-person formats are available.
Classes meet for 2 hours once a week for 8 weeks and are led by trained and certified coaches. Contact our Wellness Coordinator at 256-355-4515 if you are interested in participating or offering this class for a group.
Chronic Disease Self-Management Program (CDSMP)
Virtual and In-person formats available.
You can now participate in the CDSMP course from the comfort of your own home! Contact our Wellness Coordinator at 256-355-4515, ext. 247 to register for the next class.
This self-management educational workshop was created by researchers at Stanford University. The goal is to build participants' confidence in managing their individual health and to keep them engaged and living an active life. The program is for adults with chronic health conditions such as arthritis, diabetes, heart disease or any other ongoing health problem.
Participants attend a 2.5 hour workshop once a week for six weeks. Evidence shows that participating in the program can improve physical and psychosocial outcomes as well as improve the quality of life of participants.
" I am thankful I signed up for the classes. They were very helpful to me. I am finally learning to set goals for myself. Thank you for setting us on a path for better health."  Linda Woodward  
Contact our Wellness Coordinator at 256-355-4515 for more information on classes in your area. 

Stress-Busting Programs
NARCOG offers two evidenced-based programs specifically for caregivers. They are:
The Stress Busting Program for Family Caregivers and Stress Busting Program for Family Caregivers of People with Alzheimer's Disease or Related Dementia - These programs provides support for family caregivers of persons with chronic disease or illness or those with Alzheimer's or dementia and are designed to:
- Improve the quality of life of family caregivers and
        - help caregivers manage their stress and better cope with their life situation
The programs meet for 90 minutes a week for 9 weeks with a small group of caregivers and are facilitated by certified Master Trainers.
Contact our Wellness Coordinator at 256-355-4515 for more information on classes in your area.