Regional Transit Agency
NARCOG Regional Transit Agency COVID-19 Guidelines and Safety Precautions - September 1, 2020
Many of those served through our agency are older adults and individuals with severe underlying chronic medical conditions. These are the individuals the Centers for Disease Control and Prevention (CDC) indicates are at higher risk for developing serious complications from Coronavirus Disease 2019 (COVID-19).
Our agency is taking the necessary steps to protect our riders and our employees. The following operating procedures are effective September 1, 2020:
No more than TWO passengers will ride at a time. Effective 9/11/20.
Passengers are advised to stay at home if they are sick
Passengers are encouraged to limit unnecessary travel
Passengers are requested to avoid close contact and maintain a distance of 6 feet.
Drivers will disinfect vehicles on a continuous basis.
Fares have been suspended through the month of September.
Schedule a Ride by calling - 256-580-2088
The NARCOG Regional Transit Agency operates in Lawrence and Morgan County and serves both rural and urban areas. This service is available by scheduling a ride at least 24 hours in advance and no later than 2:00pm the day before by calling the numbers listed above.
Hours of Operation: Monday through Friday from 7:00am until 5:00pm.
FARES
Urban Area - Decatur, Hartselle and Trinity
Each one-way trip is $2
Rural Area
Each rural trip is $2 for every 5 miles. No one-way rural trip is over $10.
Trips outside of the NARCOG RTA service area are $1 per mile and are limited to a 50-mile radius of the NARCOG office and must remain inside the State of Alabama. Fares must be paid in exact change upon boarding. Connect cards are available for $20 and can be purchased at the NARCOG Transit office or from a NARCOG Transit driver.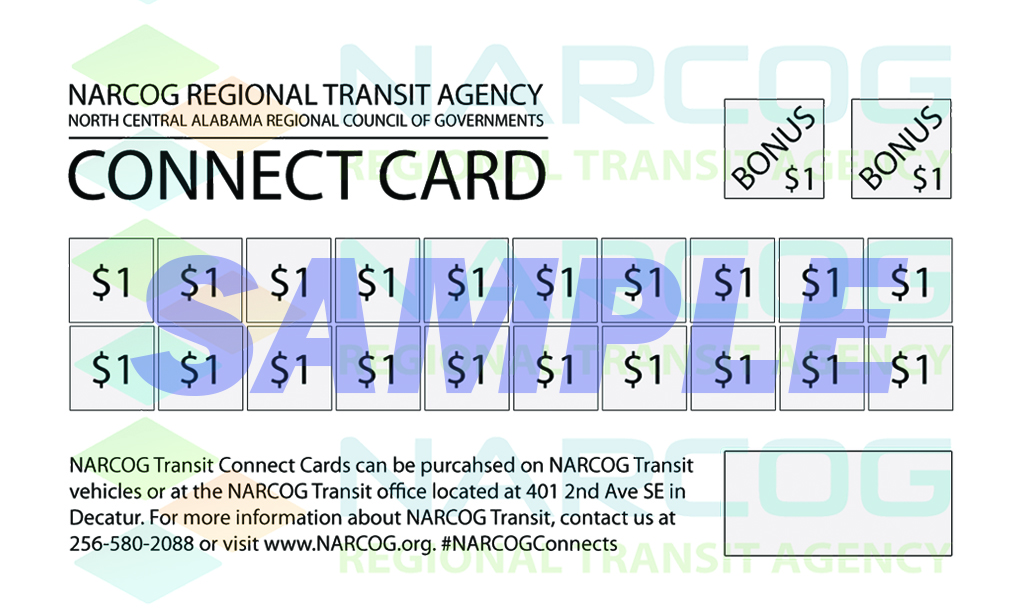 The NARCOG Regional Transit Agency is a cooperative program of the North Central Alabama Regional Council of Governments in conjunction with the Lawrence County Commission, the Morgan County Commission, the City of Decatur, the Alabama Department of Transportation and the Federal Transit Administration. NARCOG Regional Transit Agency serves the transportation needs of the general public throughout Lawrence and Morgan counties.
Rural Transportation Planning
NARCOG provides transportation planning for our communities in the rural areas of the region outside of the Decatur Metropolitan Area. Our rural transportation program enhances the movement of people, goods and services by providing a cooperative planning forum for community leaders and transportation providers to have an open dialogue with the Alabama Department of Transportation (ALDOT) officials on the status of projects and transportation related issues and projects in our region.
Human Services Coordinated Transportation Plan (HSCTP)
The primary goal of this coordinated plan is to minimize duplication, increase transit services, and receive input from transportation service providers, human service providers and the public. The purpose of the HSCTP is to improve transportation services for persons with disabilities, older adults and individuals with lower incomes by ensuring that communities coordinate transportation resources provided through multiple federal programs.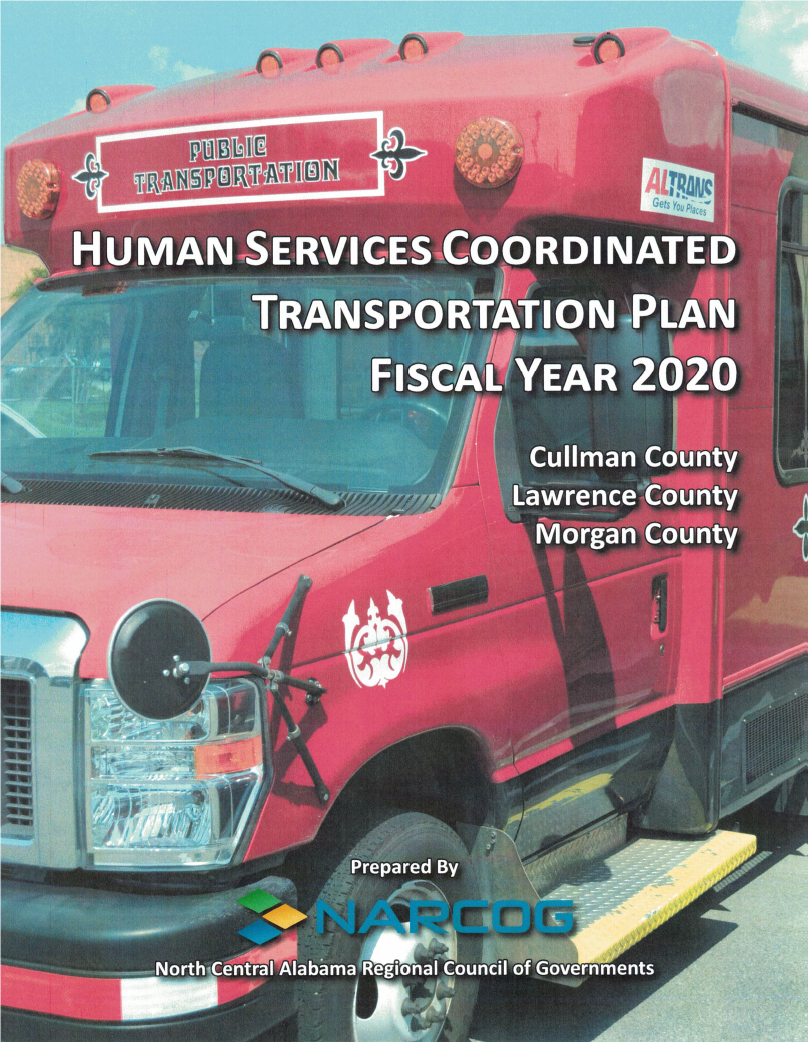 For more archived information about the Rural Planning Organization (RPO), interactive maps, news, and documents please Click Here.