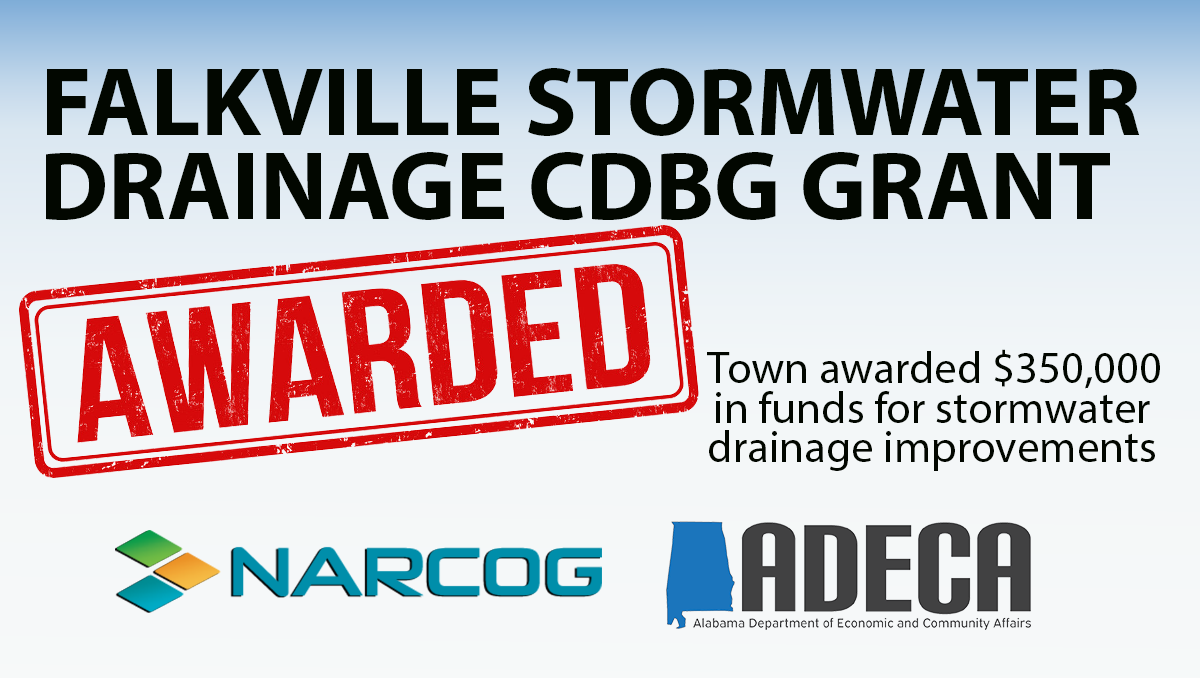 FALKVILLE — The Alabama Department of Economic and Community Affairs (ADECA) has awarded a Community Development Block Grant (CDBG) to the Town of Falkville to assist the municipality with improvements to its stormwater drainage system.
The CDBG grant, which was prepared and submitted by the North Central Alabama Regional Council of Governments (NARCOG) Regional Planning Agency, awards Falkville $350,000 for a $493,868 drainage project.
The Town of Falkville will provide $143,885 in local match funds.
"This stormwater drainage project will greatly assist the efforts currently underway to improve public health, safety ands welfare for the citizens of our town," Falkville Mayor Ken Winkles said.
Winkles said the project will impact 93 people and 32 households in Falkville.
The project will provide drainage improvements in an area bounded by County Road 55 to the north, Pine Street to the south, Patton Street to the west and Douglas Road to the east.
Through this project, the town will line existing ditches with concrete; install a 6-foot wide flat bottom concrete ditch from County Road 55 to an outlet at a proposed stormwater pipe outlet behind Pine Street Baptist Church; install a 4-foot wide flat bottom ditch from Pine Street Baptist Church to a terminus near the edge of Douglas Road, install ditches along property lines to aid conveyance of stormwater; install a wide flat bottom ditch to a point near the edge of Patton Street; remove existing dilapidated stormwater pipe along McArthur Steet and replace with reinforced concrete arch pipe beginning at the church parking lot and continuing south of the intersection with E Pine Street; and remove and replace grate inlet at the intersection of McArthur Street and E Pine Street to accommodate large pipe size.
The project is Phase 1 in the Town of Falkville's plan for comprehensive stormwater drainage improvements.
The Town of Falkville received funding for Phase 2 of the project, which addresses stormwater drainage improvements in the residential area south of County Road 55 from downtown to Douglas Road, in September with a $98,541 Appalachian Regional Commission (ARC) grant.