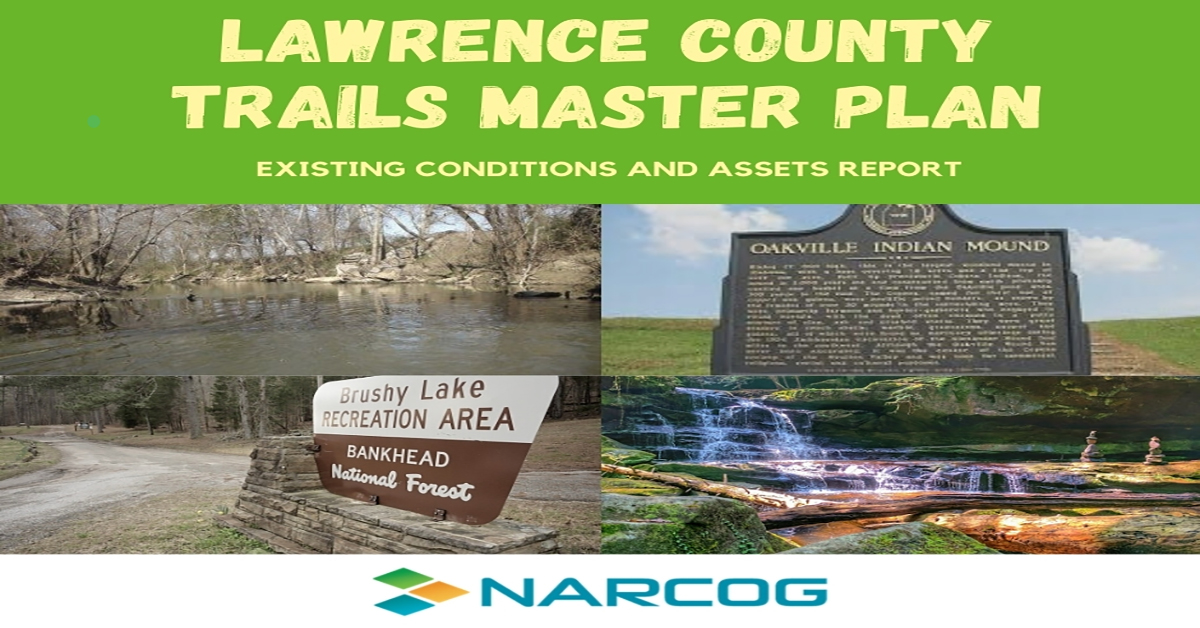 The North Central Alabama Regional Council of Governments (NARCOG) Regional Planning Agency has released the Lawrence County Trails Master Plan: Existing Conditions and Assets Report as part of its Rural Planning Organization (RPO) work program.
The report is part of the FY 2020-2021 RPO work programs and represents Phase 1 of a two-part planning process.
Phase 1 consisted of research, documentation and mapping of existing conditions and assets in Lawrence County. Phase 2 will consist of the development of a master trail plan, based on Phase 1 research and asset identification, with broad-based stakeholder and public participation. It will get underway in FY 2022.
The plan's purpose is to serve as a guide for creating a safe and connected network of future greenway/blueway trails development — such as pedestrian, bicycle, equestrian, canoeing and kayaking trails — in Lawrence County, which can be a tool for tourism and recreational-based economic development.
The plan strives to connect all communities and their associated downtown business districts, as well as the major natural, cultural, and historic assets. Lawrence County is rich with natural, cultural and historic assets, such as Bankhead National Forest, Oakville Indian Mounds, the Tennessee River, along with several other significant destinations.
While preparing Phase 1 of the plan, the NARCOG Regional Planning Agency took local, regional and state initiatives into account to ensure the master trail plan compliments a wide range of on-going efforts in the region. Existing plans and initiatives that were referenced include the Courtland Economic Development and Recovery Program, the North Courtland Comprehensive Master Plan, 5 Forward: Comprehensive Economic Development Strategy, the Singing River Trail, the Tennessee RiverLine Trail, Muscle Shoals National Heritage Area, the Alabama Statewide Comprehensive Outdoor Recreation Plan, and the Alabama Statewide Bicycle and Pedestrian Plan.