COVID-19 Vaccine and Other Scams
December 17, 2020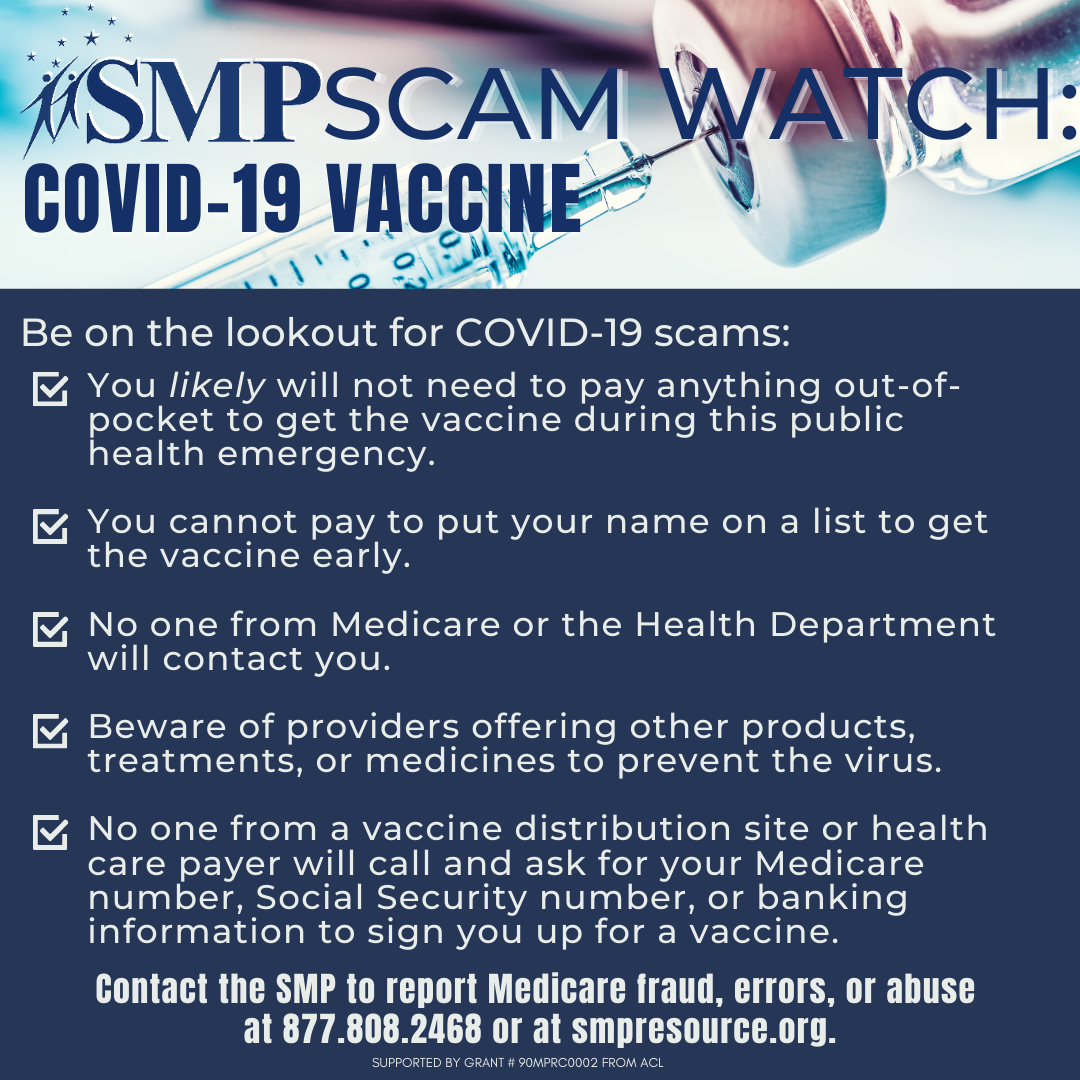 The Senior Medicare Patrol (SMP) has numerous stories related to coronavirus scams.
Phony Tests, Cures and Fake Products
The Better Business Bureau says its Scam Tracker has received numerous reports of people receiving emails and messages claiming that, for a fee, they can get a test or buy a product to prevent or cure coronavirus.
Economic Impact Payment (Stimulus Checks)
There have been local reports of scammers calling individuals requesting personal information in order to receive their new stimulus payment. As of early December, there has not been any new stimulus package approved.
PAYMENTS will be automatic! No information needs to be provided by mail, phone or through an application process in order to receive these payments.
Phishing Scams and Government Impersonating Scams
More people are working from home and families are accessing the internet more often. There has been a huge increase in the number of reports of fake emails/test messages and other messages requesting that you complete a survey or take an online test related to the coronavirus. Clicking on links in these messages can release malware that can compromise your personal information. BEWARE!
Here is a screenshot of a text message recently reported.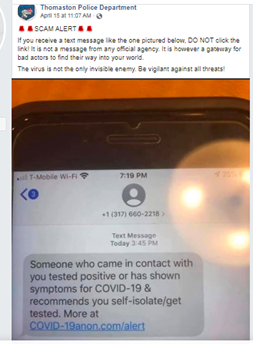 Employment Scams
Look for work posted on the business website and trusted sources such as the employment service. Be wary of phony posts for work from home schemes.
Shortage Scams - Price Gouging
Some have resorted to buying supplies and stockpiling them in order to sell them at a higher price. Price gouging is illegal and prosecutors across the country have been investigating reports of exhorbitant prices being charged for hand sanitizer, disinfecting wipes, masks and other common cleaning products. Complaints of price gouging can be filed with the Alabama Attorney General's office.
NARCOG encourages you to never supply personal identifying information over the phone, by text, email to anyone that contacts you offering to sell you a test, a service or product related to the virus outbreak.
Other Federal Agency Alerts
U.S. Economic Development Agency (EDA) - www.eda.gov
Social Security Fraud Alert
March 27, 2020 from Gail S. Ennis, Inspector General for Social Security - Today, I am warning the public about fraudulent letters threatening suspension of Social Security benefits due to COVID-19 or coronavirus-related office closures. Social Security will not suspend or discontinue benefits because their offices are closed. Read more
View the latest COVID-19 Fraud Alert information and video from the Office of the Inspector General here.
https://oig.hhs.gov/coronavirus/index.asp?utm_source=web&utm_medium=web&utm_campaign=covid19-landing-page
The U.S. Food and Drug Administration (FDA) and the Federal Trade Commission (FTC) issued warning letters to seven companies for selling fraudulent COVID-19 products.
View the full report here - https://www.fda.gov/news-events/press-announcements/coronavirus-update-fda-and-ftc-warn-seven-companies-selling-fraudulent-products-claim-treat-or
Other helpful sites with information on scam alerts.
www.fcc.gov This link has sample audio of calls from scammers.