New Medicare Cards Are Mailing NOW!
The new cards began mailing to Alabama on Wednesday, August 21st. It will take approximately one month to mail all of the cards. This means you may receive your new Medicare card at a different time than your friends, family or neighbors in your area.
The new cards are still paper cards, but they look a little different. The new cards have a unique number rather than a Social Security number.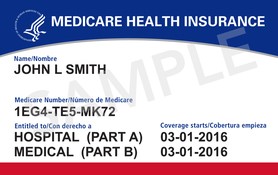 The new cards will help in the fight to reduce fraud and scams. Remember...the new cards will be mailed to the address Social Security has on file for the beneficiary. There is NO fee to receive the new card. You can begin using the new card immediately.