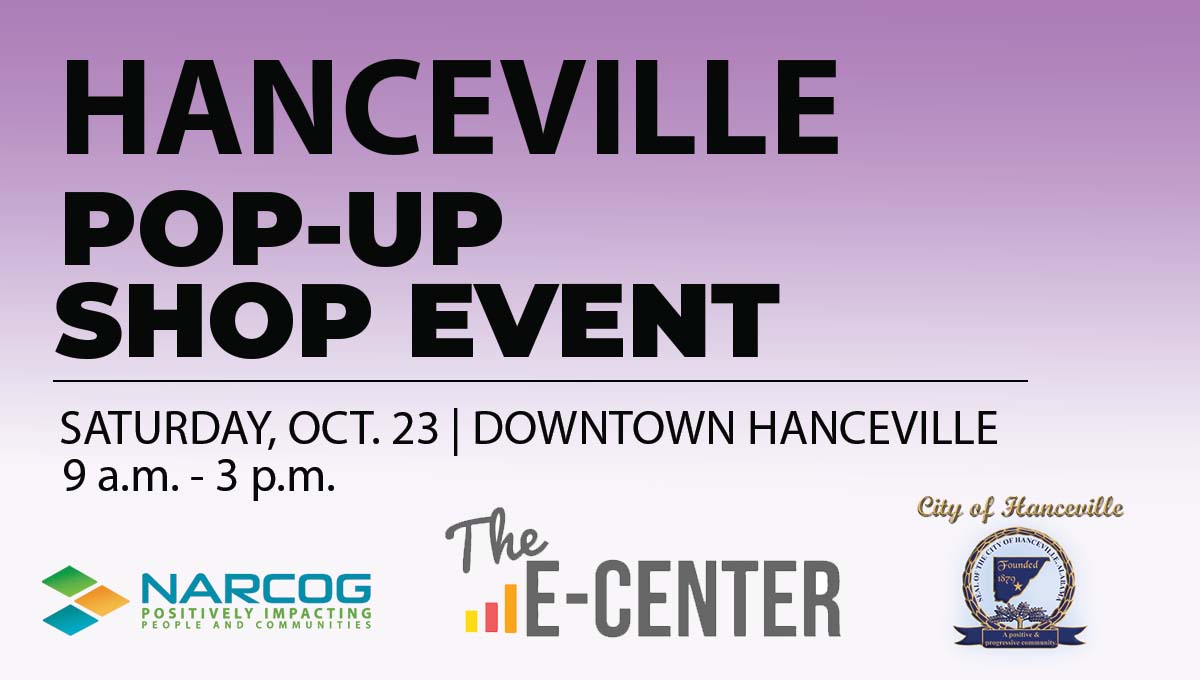 HJANCEVILLE — Local entrepreneurs are getting an opportunity to showcase their wares in downtown Hanceville.
The Decatur-Morgan Entrepreneurial Center is hosting a Pop-up Shop Circuit event in Hanceville on Saturday, Oct. 23 from 9 a.m.-3 p.m.
The event is being held in conjunction with the Hanceville Downtown Merchants Association, Nolan Bradford, and the Mud Creek Festival.
This is the second event in the E-Center's Pop-up Shop Circuit, which aims to promote small businesses and tourism in Cullman and Morgan counties. The E-Center's first pop-up shop event was held in September in downtown Falkville.
The Pop-up Shop Circuit is part of the Project Rebound Initiative, which the North Central Regional Council of Governments (NARCOG) helped the E-Center fund through the assistance of an $86,880 USDA Rural Business Development Grant.
Through Project Rebound, the E-Center will coordinate with rural communities in the region to provide special small business events intended to promote small businesses and tourism in rural small towns.
For more information about NARCOG and the Project Rebound Initiative, visit www.narcog.org or follow the agency on Facebook @narcogal.
VENDOR LIST
No Limits / Book Tour
SipOology Tea
Redline Leather Works
Homemade by Lala
Plunder Jewelry
Chalk It Up-Rock Creek Designs
Buttered Up Soap Company
Bama Beaver
Screen Printing and Tumblers
Operation Handyman
Decatur-Morgan E-Center
NARCOG